Publishers on Snapchat will be able to instantly create posts based on content published on a website, thanks to a new Snap function. According to Axios, more than 40 publications from the United States, the United Kingdom, France, and India will begin using Dynamic Stories to share published material to Snapchat seamlessly.
The Washington Post, CNN, British Vogue, ESPN, and a few others were among the first partners.
The new Discover format, Dynamic Stories, collects an RSS Feed from a partner to automatically build Stories from material a Publisher is already publishing on the web and display it on Snapchat.
These Stories, which are available in the Discover feed, change in real-time, allowing readers to stay up to current on the latest news. Whether it's some breaking news on the situation in Ukraine from trustworthy sources or the latest in pop culture or fashion, Snapchat has got it covered for you.
Snapchat also made it simple for partners to create daily content and cut expenses by integrating Snapchat publishing into their existing workflow. This new format will also help users support their ongoing efforts to deliver local content to the community worldwide.
"By launching Dynamic Stories, we deliver the fastest manner of posting premium content to the Snapchat community," said Rashmi Daryanani, Media Partnerships at Snap India. 
She stated that Dynamic tales, which are available in the Discover feed, will employ Feeds to produce Stories from content that a partner has already created. These stories will be updated in real-time, allowing Snapchat users to stay up to date on the latest events at all times. 
Furthermore, Dynamic Stories will assist the company in unlocking material in multiple languages, including English, Hindi, and Marathi, throughout India. Snapchat is also onboarding new partners in other languages so that people can come to Snapchat and get news content in their own language.
The company went on to say that by integrating publishing to the platform into these partners' workflows, they were able to provide them with a simple approach to creating daily content while also lowering costs.
Partners already see results. The Washington Post's dependable, timely coverage of the awful battle in Ukraine reached nearly 1.1 million Snapchatters during the first week of the conflict.
In India, MissMalini's program attracted more than 200k unique viewers in the first 30 days of its introduction.
Snapchat does not have an available newsfeed that is unmoderated, allowing unvetted individuals or publications to disseminate inaccurate and misleading information to a vast audience. Only verified media publishers and content providers are included on Discover.
In addition to these updates, Snapchat has previously partnered with SignAll, releasing many stickers and three augmented reality glasses to aid the deaf community during International Deaf Week in September. According to the company, this rollout is part of the app's ongoing efforts "to broaden how Snapchat users can express themselves and interact through our camera," according to the company.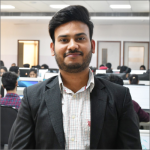 Senior Project Delivery Manager
A passionate and enthusiastic senior digital marketing and sales specialist who is highly proficient in planning, implementing, managing the entire business-to-business sales and marketing process for selling the company's advertising products and services. Having rich expertise and in-depth domain knowledge in the field of both sales and digital marketing, he ensures that he has a confident and winning attitude even during challenging business interactions.