Bard, Google's AI chatbot that competes with OpenAI's ChatGPT, made a factual error in its first demo. Additionally, at Google's recent event in Paris, the presenter could not demonstrate the phone because it was misplaced. 
Following these two incidents, the market value of Google's Parent Company, Alphabet, fell by USD 100 billion after Bard's incorrect answer. Let's look into the incident in-depth.
Recently, a Twitter advertisement for the chatbot asks Bard to name some James Webb Space Telescope discoveries.
Bard responded with 3 points, one among them being – 'In 2023, The JWST spotted a number of galaxies nicknamed "green peas." They were given this name because they are small, round, and green, like peas.'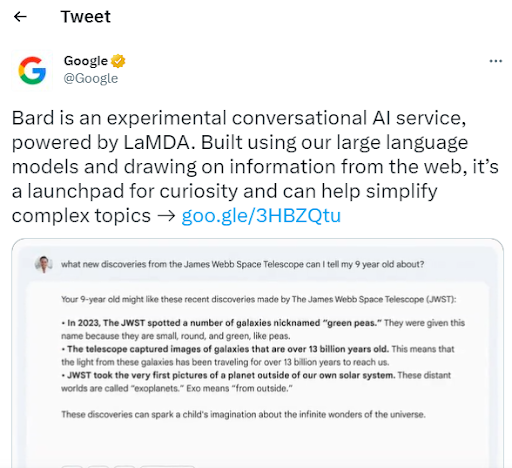 However, according to NASA, the first image of an exoplanet was taken in 2004. Reuters reported that Google's Bard had made a mistake.
Jane Park, a Google spokesperson, stated to The Verge on the following incident, "This highlights the importance of a rigorous testing process, something that we're kicking off this week with our Trusted Tester program. We'll combine external feedback with our own internal testing to make sure Bard's responses meet a high bar for quality, safety and groundedness in real-world information."
It would be fun to watch what would be the next step of Google. What do you think, are there any surprises in store from Google?
Well, we'll keep you informed if there would be any further updates.
Make sure you follow us on different social media platforms, YouTube, LinkedIn, Facebook, and Instagram, to stay updated with new trends and technology in digital marketing.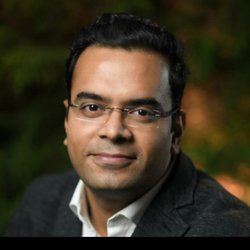 15+ years leading business operations and client management in the segments of digital marketing and CRM. Driven by test-driven development paradigms, and exceedingly collaborative across all disciplines (from stakeholders to product to design to development to users – and back again).
Hire the best Digital Marketing Company from Canada. Choose certified Digital Marketing Specialists from Propel Guru now.