Instagram, owned by Meta, has added a new tool that allows users to tag their creative collaborators in posts and reels. While collaboration posts were previously permitted on the platform, the new functionality also shows the user's profile category.
This is significant because appropriate creative credit and recognition are the springboards for new opportunities, economic empowerment, and discovery. This is becoming increasingly important as even more creators connect with one another.
Until recently, the Instagram community has banded together to promote creators and found alternate ways to credit one another, such as tagging one another in posts and photographs, so they are now providing this new tool. 
How do Instagram Enhanced Tags work?
Instagram has a step-by-step guide for using 'improved tags':
– Open Instagram and tap (+) in the upper right corner.
– Tap Next after creating a new Post.
– After making any creative changes, tap Next.
– After creating a caption, tag people.
– Go to Add Tag and search for and choose contributors.
– To see the creator category, tap on the 'Show Profile' type.
– Press the Done button.
Users can share their work after adding different categories and details by tapping Share.
Users will be able to honor their creative colleagues in posts and short films that show in Instagram's Feed and Reels, thanks to enhanced tagging. "This feature will reflect a creator's publicly visible and self-identified profile category," Instagram said in its post. Make-up artists, choreographers, creative directors, photographers, and other categories are among the types. The company also stated that they are delighted to expand enhanced tagging to Reels, as it continues to be the top contributor to engagement increase on Instagram.
Instagram is testing a new UI with a small user sample to display fresher content in the reels and the keywords search section. The test, in particular, disables the current section that shows when some people use hashtags to search. According to The Verge, users will only be able to see the most popular posts or Reels throughout the test. 
Instagram is exploring a new Templates feature after testing with the Top and Reels sections. As the name implies, the functionality will assist users in making new videos using existing Instagram videos in the same format. The feature is beneficial to creators and will save time spent manually replicating a video's format.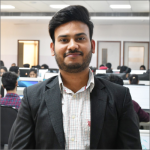 Senior Project Delivery Manager
A passionate and enthusiastic senior digital marketing and sales specialist who is highly proficient in planning, implementing, managing the entire business-to-business sales and marketing process for selling the company's advertising products and services. Having rich expertise and in-depth domain knowledge in the field of both sales and digital marketing, he ensures that he has a confident and winning attitude even during challenging business interactions.