Instagram has published the third version of its 'Instagram Insider' digital magazine. It is a short and free digital magazine that highlights the emerging trends based on platform activity and provides tips and insights to help plan strategies.
On April 29, 2021, the first-ever 'Instagram Insider digital magazine was released. It is designed to interest users looking to buy something from Instagram trends. It also provides answers to some platform-related questions, which helps users with a new perspective to make Strategies for their Instagram account.
Instagram said that If you have ever spent a lazy weekend afternoon reading through your Instagram feed, using the Explore or Shop tabs to like and save posts, then this 'zine is for you!
The Third version of Instagram Insider represents a seasonal shift amongst customers. Instagram said that this year's fall trends reflect the past 18 months with increased respect for nature and art, self-identity and pageantry. Twelve months of long walks and hikes will be seen within the growing Gorpcore aesthetic. The added value for all joyful issues is mirrored within the vibrant colours and bold patterns in every tiny thing, from tops to nails to dishware.
This month's Q & A session mainly focuses on Reels and highlights that the Reel algorithm is fruitful for "Small Creators." Instagram Insider also provides the option to scan a barcode and learn more about a topic in the app, connecting the magazine to shoppable content and clips.
In a nutshell, 'Instagram Insider' digital magazine works exactly like a book full of questions and answers that tell the students what they will get on their exams. It provides unique tips and insights on the latest trends that may help creators in their marketing approach. Its Q&A session provides additional information on what Instagram is focusing on at any given time.'Instagram Insider' is all about finding new trends and inspiration and discovering unique individuals.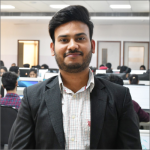 Senior Project Delivery Manager
A passionate and enthusiastic senior digital marketing and sales specialist who is highly proficient in planning, implementing, managing the entire business-to-business sales and marketing process for selling the company's advertising products and services. Having rich expertise and in-depth domain knowledge in the field of both sales and digital marketing, he ensures that he has a confident and winning attitude even during challenging business interactions.