Instagram is replacing the "Swipe-Up link" feature on stories – with a tappable "Linking Sticker" – that can direct the audience to third-party websites. As per reports, The Swipe-Up option will disappear from 30th August 2021.
Instagram came up with "Linking Sticker" because they believe that people are more interactive with stickers. It is a better way to express an emotion, add information like time, location and temperature and also helps to make stories look more stylish in a unique way.
Presently, The Swipe-Up feature was accessible to users with 10k or plus followers. Now, Instagram is planning to run a test to make it accessible to all its users to add URLs on their stories through "Linked Stickers."
However, Instagram will keep an eye on what type of link people post because they do not want to misuse the Linking option. In addition, there are higher chances of spreading misinformation if everyone would be able to access it.
If reports are to be believed, Instagram is still evaluating whether to make the Linking Sticker accessible to everyone or limit it to some top Influencers and brands who have a voice and reach on Instagram, maybe not that much, what Instagram requires.
With this new update, there is a bonus from Instagram. At present direct replies are not available on "Swipe-Up" stories. But, with this new update, Instagram will also allow users to reply to Instagram stories with "Linking Sticker," which will ultimately increase engagement between users.
If reports are to be believed, Links are only available for stories for now. Plus, there is "No Plan" to make Links available on the feed or anywhere in the app.
In a nutshell, Stickers are the main goal for Instagram right now. With this new update of replacing "Swipe-Up" with "Linking Sticker" and adding the option of direct reply on linking stories, Instagram will become effortlessly more engaging.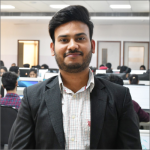 Senior Project Delivery Manager
A passionate and enthusiastic senior digital marketing and sales specialist who is highly proficient in planning, implementing, managing the entire business-to-business sales and marketing process for selling the company's advertising products and services. Having rich expertise and in-depth domain knowledge in the field of both sales and digital marketing, he ensures that he has a confident and winning attitude even during challenging business interactions.