Instagram has been experimenting with a new feature that will enable the users to mark other users as their Favorites. The Facebook-owned social media platform will allow users to group their most important Instagram accounts, including creators and friends, as their priorities. In addition, this new feature will make it easier for users to view the posts by the marked handles on the top of their feed.
One of the mobile developers, Alessandro Paluzzi, shared the update regarding the 'Favorites' option on his Twitter account.
Apart from this latest feature, the social media platform has already offered users an option to create a 'close friends' list. This feature allows the user to upload stories, which are more personal and can be viewed only by a selected batch of people known as 'close friends.'
According to the update, this new 'Favorites' feature will be available inside the more options, represented by the three vertical lines on the top left of a profile page. Moreover, for marking an Instagram account as their favorite, the users will have to visit the respective profiles individually. The same practice is followed when marking a person as your 'close friend.'
Generally, users follow several accounts and brands, but they don't prioritize their content as they do for their friends and families. Thus, by letting users choose which Instagram accounts are more important to them, the platform will provide its users with more control over their feed.
According to the current algorithm of Instagram, the posts on your feed are ranked based on the most shared and recent posts from the people you follow, and how well you will be engaging with the post will also be considered.
The favorite feature is in the development stage, and the social media giant will soon be sharing more details on the same.
For more such information related to the digital sphere, visit Propel Guru's YouTube channel.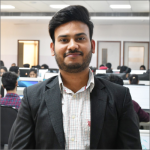 Senior Project Delivery Manager
A passionate and enthusiastic senior digital marketing and sales specialist who is highly proficient in planning, implementing, managing the entire business-to-business sales and marketing process for selling the company's advertising products and services. Having rich expertise and in-depth domain knowledge in the field of both sales and digital marketing, he ensures that he has a confident and winning attitude even during challenging business interactions.