Introduction:
With the continuous additions, Meta is now planning to introduce the users with new features for a more seamless & convenient experience. The latest edition is about offering paid features to users. Currently, Snapchat, and Twitter, already providing Snapchat+ and Twitter Blue paid services with various exclusive features for creators. Facebook and Instagram also have a few paid features, like the stars and events. It is also predicted that the new feature will bring an innovative change for the users.
The division is stated to be led by Meta's former Research Head, Pratiti RayChoudhury. As per the latest report from Verge, Meta is forming a new unit called "New Monetization Experiences" to concentrate on paid features for Facebook, Instagram, and WhatsApp. 
What to Expect?
Although, the brand's new features supposed to add in the future are not apparent yet. Still, one thing confirmed now is that the paid features will notably help Meta fill their pockets. However, it is also being said that the paid features of Meta will not allow the users to remove the ads they experience while watching videos and other things on the platform.
But Even if taking paid version, you will keep seeing ads; it will be a huge disappointment. Paid subscriptions seem worthwhile only if you get the advantage of an ads-free experience. Competing Twitter and Snap, The paid features will be functional for all platforms like iOS, Android, and desktop.
In an interview, John Hegeman, Meta's Head of Advertisements and Business Products, shared some insights. He said that the firm is dedicated to developing the adverts business. They have no intentions of letting customers pay to turn off ads.
Meanwhile, in June, Meta CEO Mark Zuckerberg published that the company has been "rolling out more modes for creators to make money on Facebook and Instagram and sharing updates that will allow creators build for the metaverse. People are heading towards a future where more people can do creative work they enjoy, and he wants platforms like theirs to play a role in making that happen."
The post expressed, "more money straight to creators: They'll hold off on any revenue sharing on Facebook and Instagram until 2024. That holds paid online events, Subscriptions, Badges, and Bulletin."
Also do not forget to visit us on different social media platforms. The links are here – 
Propel Guru's YouTube Channel, LinkedIn, Facebook, and Instagram
KEEP EXPLORING!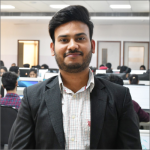 Senior Project Delivery Manager
A passionate and enthusiastic senior digital marketing and sales specialist who is highly proficient in planning, implementing, managing the entire business-to-business sales and marketing process for selling the company's advertising products and services. Having rich expertise and in-depth domain knowledge in the field of both sales and digital marketing, he ensures that he has a confident and winning attitude even during challenging business interactions.