Hello everyone, welcome to another video by Propel Guru. I'm Ausaf and we are here with yet another interesting news from the social media ecosystem.
Well, according to Meta content creators will be able to sell virtual things to customers in Horizon Worlds, the metaverse's leading platform. This amazing news has been happy indeed for all the content creators.
Meta, which is the parent corporation of Facebook and Instagram, stated in a blog that the metaverse would provide a new sense of innovation and introduce new chances for the next generation of innovators and entrepreneurs to pursue their hobbies and establish livelihoods because it is not limited by physical location. Creators and entrepreneurs will get more freedom to develop a profitable company plan.
The company wants Meta to have tonnes of beautiful worlds. For that to happen, there ought to be a lot of creators who can sustain themselves and make this the Creator's work, according to Facebook CEO Mark Zuckerberg.
In order to be eligible for compensation, creators who participate in any monetization initiatives, including in-world purchases and creator bonuses, must obey all of the Horizon Worlds standards, including the Conduct in VR Policy and the Horizon Worlds Prohibited Content Policy. 
According to Meta, it would allow producers to build and sell attachable accessories for the fashion industry or offer paid access to a new portion of the universe. 
Only 18+ nationals of the United States and Canada can buy and sell items in the Horizon universe. Also, when in Build mode, creators selling things will see a Commerce tab and gadget that allows them to create purchasable items.
You can also report to Facebook to review if you discover something that seems to violate their policies, just like any other content in Horizon Worlds.
While Meta is currently testing the new creator bonuses and in-world buying features with a small group of creators, they continue to roll out more tools and support for all the creators to make creating new worlds even easier.
To that aim, the social media behemoth is attempting to entice content creators, who will, in turn, likely attract more new users.
In October, it has already established a $10 million fund for creators on Horizon, where the company claims over 10,000 different "worlds" currently exist.
The company also intends to experiment with bonuses for creators who meet specific criteria, such as "creating worlds that attract the greatest time spent."
Unlike revenue from virtual objects, which is subject to a commission, these bonuses will not be "subject to fees and will be given to creators in full," Meta stated.
According to a February story on the Verge's specialized site, Horizon Worlds has over 300,000 members in the United States and Canada.
Let's hope Meta comes with some amazing updates for it's creators. Well, thanks for watching this video and do not forget to like, share and subscribe to our channel.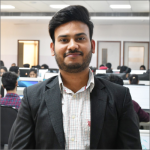 Senior Project Delivery Manager
A passionate and enthusiastic senior digital marketing and sales specialist who is highly proficient in planning, implementing, managing the entire business-to-business sales and marketing process for selling the company's advertising products and services. Having rich expertise and in-depth domain knowledge in the field of both sales and digital marketing, he ensures that he has a confident and winning attitude even during challenging business interactions.