Twitter has successfully tested its first edited tweet, which says, "This is a test to make sure the edit button works; we'll let you know how it goes." The new edited tweet is posted to see how the posts will look when the feature is rolled out. Initially, the feature will only be accessible to Twitter Blue subscribers once live.
Edited tweets will come with a small icon that will display the changes in the history of the tweet since it was posted. To see the history, users can just click or tap on the 'Last Edited' bar and see the 'version history section.'
Tweet editing is still not open to the general public, as Twitter has mentioned previously that the feature will only be available to Twitter Blue users first. This will be an additional feature among a list of other exclusive features open to Twitter Blue users, including the ability to undo tweets, ad-free articles etc.
At first, this edit button was demonstrated by a micro-blogging platform. The new feature is available overseas if you reside in the supported regions, which are the US, New Zealand, Canada, and Australia, at a monthly fee of around $5/-month (about Rs 407.12). However, Twitter Blue is yet to see a launch soon in India.
With the new feature, the users will get half an hour to change the posted tweets. Numerous changes in this period will be feasible. However, after 30 minutes, no modifications will be allowed to ensure that the context of a tweet doesn't change frequently.
To keep yourself in touch with digital marketing trends and technology, follow us on different social media platforms YouTube, LinkedIn, Facebook, and Instagram.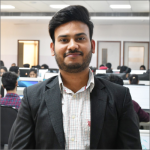 Senior Project Delivery Manager
A passionate and enthusiastic senior digital marketing and sales specialist who is highly proficient in planning, implementing, managing the entire business-to-business sales and marketing process for selling the company's advertising products and services. Having rich expertise and in-depth domain knowledge in the field of both sales and digital marketing, he ensures that he has a confident and winning attitude even during challenging business interactions.