Twitter has launched Twitter Fleets, similar to Instagram stories, in November last year. Twitter users have the options to Fleet text, reactions to Tweets, photos, or videos and customize their Fleets with different backgrounds, stickers, and text options. Going forward, the social media giant plans to update its fleet functionality by adding full-screen ads to Fleet. The company has announced that it will soon begin pilot testing ads on its disappearing posts feature called Fleets, as it works to give advertisers more options.
The social media company has previously announced its plans to double annual revenue by 2023, which it aims to achieve in part by selling ads on more parts of its website and mobile app.
Twitter said that the Fleet ads would be the first on Twitter that appears full screen on phones as full-screen ads are likely to capture more user's attention and become popular among advertisers.
The newest addition is part of Twitter's goal of reaching out to larger social media platforms such as Facebook Inc and Snap Inc, which already have offered the Stories feature that disappears after 24 hours and is monetized through ads.
Brands creating fleet ads can also use a feature that redirects users to a company website or other web destination if they swipe up on the ad.
Justin Hoang, Twitter senior product manager and Austin Evers, global product marketing manager, said: "Fleet ads are full-screen billboards for advertisers. Appearing in between Fleets from people, these ads are all about connecting your message with the everyday. Fleet ads are a space for brands to be creative: go behind the scenes, have a creator take over your account, or share a hot take."
As per the latest announcement by the company, Fleet ads will be visible to a limited audience in the United States on Android and iOS.
Fleet ads will support images and video in a 9:16 ratio. The format will be supported up to 30 seconds of content for video, and brands can also add a "swipe-up" call to action.
When it comes to tracking the result of Fleet Ads, advertisers will get standard Twitter ads metrics, including impressions, profile visits, website visits, and more.
Twitter recently announced that users can now join Twitter spaces directly from desktop and mobile browsers. An online report also revealed that the tech giant is planning to monetize spaces in the coming future.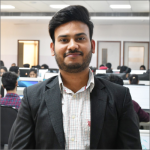 Senior Project Delivery Manager
A passionate and enthusiastic senior digital marketing and sales specialist who is highly proficient in planning, implementing, managing the entire business-to-business sales and marketing process for selling the company's advertising products and services. Having rich expertise and in-depth domain knowledge in the field of both sales and digital marketing, he ensures that he has a confident and winning attitude even during challenging business interactions.