Hello everyone. It's finally a new year! And, what's better than starting the year by discussing some of the trends or features we can expect in 2022?
Myself, Aiswarya, and welcome to Propel Guru's YouTube channel.
WhatsApp had a busy year in 2021, with new developments and features, as well as criticism and outrage from users and even governments. However, WhatsApp remains the most popular messaging platform globally, with over 2.5 billion active users.
WhatsApp introduced new features in 2021, including desktop voice and video calling, chat transfer from iOS to Android, disappearing images and videos, a sticker maker tool, and more.
The social media giant also tests features regularly, some of which are available to WhatsApp beta users. As a result, any new update or feature on WhatsApp constantly creates a sensation, and the app is projected to remain in the spotlight, at least in terms of new features, even in 2022.
So, as the new year begins, here's a look at some of the most anticipated WhatsApp features for 2022.
The first expected feature of WhatsApp can be Message Reactions is expected to be the first feature of WhatsApp. It would allow you to react with emojis, and there are currently six confirmed emoji reactions. You will also see who reacted to your message with which emoji.
Another significant feature coming soon is WhatsApp Communities, which will allow users to combine many WhatsApp groups into a single community. According to sources, WhatsApp will allow you to connect up to ten groups in one community. There will be an announcement section where messages can be delivered to all groups in the community.
Stickers are popular on WhatsApp, but they've been challenging to access on the desktop and browser apps. However, the company has included a sticker store in the beta version of its desktop software. You couldn't previously access the sticker store, which contained the original WhatsApp sticker packs. It is only available in the beta app, but WhatsApp is anticipated to be broadly available soon.
Simply put, WhatsApp's creators have demonstrated that the popular platform deserves its fame in recent years, but the road is not that easy. There is always competition, as there are numerous alternatives to WhatsApp, whether the creators want it or not: Signal, Telegram, Zoom, and the list is long.
For more such information, subscribe to Propel Guru's YouTube channel.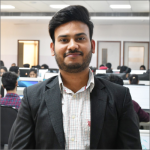 Senior Project Delivery Manager
A passionate and enthusiastic senior digital marketing and sales specialist who is highly proficient in planning, implementing, managing the entire business-to-business sales and marketing process for selling the company's advertising products and services. Having rich expertise and in-depth domain knowledge in the field of both sales and digital marketing, he ensures that he has a confident and winning attitude even during challenging business interactions.