WhatsApp, the world's leading messaging app, has announced that the company is testing and developing a disappearing message feature for personal and group chats.
The disappearing message feature is designed to empower people to enable or disable disappearing messages within the duration of 24 hours. This new feature of WhatsApp will be available in a future update, according to WABetaInfo, a website that monitors WhatsApp in Beta.
In the past, the company introduced "Disappearing Messages" with a concern that not all the messages need to stay forever. The feature enables the user to delete messages after seven days when the option is turned on. When it comes to one-to-one chat, anyone in the chat can turn disappearing messages on or off. Talking about the groups, admins will only have control over the new feature.
To make WhatsApp interactions feel as natural as possible, the Facebook-owned platform introduced a new Disappearing Message feature with the 24-hour option. 
If the user selects 24 hours with the disappearing messaging option enabled, all messages sent or received will expire after 24 hours and are no longer visible in the chat. 
The company stated in the post: "Our goal is to make conversations on WhatsApp feel as close to in-person as possible, which means they shouldn't have to stick around forever. That's why we're excited to introduce the option to use disappearing messages on WhatsApp."
WhatsApp started with seven-day message delete functionality because the company thinks that it provides peace of mind that interactions aren't permanent while staying realistic so you don't forget what you were chatting about. 
According to Whatsapp, people should use this disappearing message feature to their trusted and closed contacts only as there is a possibility that someone might take a screenshot of a disappearing message and save it before it vanishes and may use it for wrong deeds or blackmailing you.
Rivals Signal and Telegram already provide their users the option for shorter duration disappearing messages. Instagram has the feature that enables users to disappear messages immediately after the recipient has sent them. To stay up-to-date with digital marketing trends and enhance your digital marketing skills, subscribe to our YouTube channel now to learn the core concepts of digital marketing from industry experts.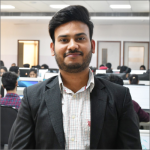 Senior Project Delivery Manager
A passionate and enthusiastic senior digital marketing and sales specialist who is highly proficient in planning, implementing, managing the entire business-to-business sales and marketing process for selling the company's advertising products and services. Having rich expertise and in-depth domain knowledge in the field of both sales and digital marketing, he ensures that he has a confident and winning attitude even during challenging business interactions.