WhatsApp is releasing the disappearing photo feature for beta users, known as 'View Once.' With this feature, the recipient can view only once sent by the sender. This feature works similarly to Instagram's expiring media feature. The feature has already been available on Snapchat, and it is available on the Instagram platform.
In reference to the screenshots shared by WaBetaInfo, users will send disappearing photos by simply selecting photos from the gallery. After choosing your option, press the clock-like icon that appears near the "Add a caption" bar on the app. Then you can send your friends and family members the disappearing photos.
The feature is compatible with videos, photographs, and GIFs. If the view once button is not visible to you while sharing the media with others, it signifies you haven't yet acquired the feature. You can find this feature in WhatsApp's 2.21.14.3 Android version.
According to the cited source, if you disable read receipts, the recipient will still be able to know if you've opened the photo or video set to view once, but you won't be able to see when the recipient opened your image.
Even if you have read receipts disabled, you will be able to see when other participants have opened expiring photos if you share a disappearing image in a group. Because there is no screenshot detection, the recipient may save the photo or video using screenshot or screen recording features, and WhatsApp would not even notify you.
You can share photos and videos in groups with the 'View Once' option, and you can see who has accessed them in the "Message Info" area. "Blocked contacts in common groups might still view those photos and videos. In actuality, they won't be able to chat or phone you, but they will be able to interact with you in groups, according to WaBetaInfo.
If you send a photo to someone who hasn't turned on the View Once button, the feature will still work. Furthermore, Facebook CEO Mark Zuckerberg recently confirmed the existence of this feature and hinted that it would be accessible to everyone shortly. As a result, the public release of this feature is expected soon.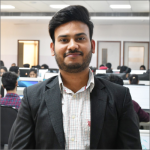 Senior Project Delivery Manager
A passionate and enthusiastic senior digital marketing and sales specialist who is highly proficient in planning, implementing, managing the entire business-to-business sales and marketing process for selling the company's advertising products and services. Having rich expertise and in-depth domain knowledge in the field of both sales and digital marketing, he ensures that he has a confident and winning attitude even during challenging business interactions.