WhatsApp, the Facebook-owned app, plans to launch a new feature called "Flash Calls" to verify your log-in on WhatsApp. This new feature will enable users to log in to their WhatsApp account safely using 'flash call' instead of a 6-digit verification code.
According to reports for Mashable, WhatsApp is developing a new feature in the WhatsApp beta for the Android 2.21.11.7 update and is currently in the beta stage and will be available in the future WhatsApp update.
Although, the new verification feature called "Flash Calls" will not be available for iOS users as Apple does not provide a public API to read and access the user's call history.
Flash call feature verification is entirely different from the regular 6-digit code verification, where a 6-digit code is sent to users on their phones for the verification process. WhatsApp will call on the user's phone number in the automatic call verification method and then automatically end the call after a few seconds. The last phone number in the phone's call log history will be used as the number that gives the 6-digit code to help the company verify the user's identity.
As per the reports, to enable the feature, WhatsApp would require the user's permission for managing calls and accessing the phone's call log. The 'flash call' feature is optional, and users can continue logging into WhatsApp through the 6-digit code received via SMS or call.
As per Mashable, the user's call history would not be used for any other purposes. The company will only check the last entry, i.e., WhatsApp's automatic call, from the user's call history.
One of the latest additions to WhatsApp is multi-device support that will help you stay logged in to multiple devices similar to Telegram App. Mark Zuckerberg, the CEO of Facebook, and WhatsApp chief Will Cathcart have announced that this feature will be added in the coming months.
Another newest addition to WhatsApp is WhatsApp's Disappearing Mode that will empower users to send disappearing messages to all their contacts rather than enabling it just for individual chats. Once you allow the Disappearing Mode feature, all individual and group chats will have this feature turned on by default. This exciting feature is already in use for other social media platforms such as Facebook Messenger and Instagram under the name "Vanish Mode."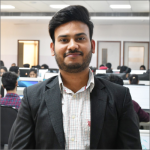 Senior Project Delivery Manager
A passionate and enthusiastic senior digital marketing and sales specialist who is highly proficient in planning, implementing, managing the entire business-to-business sales and marketing process for selling the company's advertising products and services. Having rich expertise and in-depth domain knowledge in the field of both sales and digital marketing, he ensures that he has a confident and winning attitude even during challenging business interactions.