WhatsApp, known as the world's most popular messaging app, has announced its new privacy policy update and Terms of Service for its users in January 2021. The company has now extended the deadline until May 15 for WhatsApp users to accept its latest privacy policy update that requires sharing data with Facebook. The company claimed that not accepting the terms will not lead to account deletion or deactivation.
The Facebook-owned company said that most of the WhatsApp users have already accepted the terms of the updated privacy policy, and the ones who have not will get a follow-up to do that.
The company stated: "We've spent the last few months working to clear up confusion and misinformation. As a reminder, this update does not impact the privacy of personal messages for anyone. Our goal is to provide information about new options we are building that people will have, to message a business on WhatsApp, in the future."
Facebook was strongly criticized for privacy breaches with the privacy policy update as the acceptance refers to sharing data access with Facebook companies. Facebook companies such as Facebook, Facebook Payments, Onavo, Facebook Technologies, and CrowdTangle will be able to access WhatsApp users' data after this year's privacy changes.
The company has now decided to start limiting features that will restrict users from accessing their chat list, but they can answer voice and video calls.
The company has now decided to start limiting features for the users who will not update the new privacy policy. WhatsApp will restrict some functionalities that include:
While you won't be able to access your chat list, you will be able to answer the incoming phone and video calls only. You may tap on alerts to read or respond to messages or to return a missed phone or video call if you have them turned on.
After a few weeks of limited functionality, users won't be able to accept incoming calls or notifications, and WhatsApp will stop sending messages and calls.
Source: WhatsApp
Subscribe to our YouTube channel now to stay updated with tech news and learn digital marketing skills and concepts from our industry experts.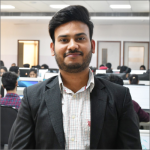 Senior Project Delivery Manager
A passionate and enthusiastic senior digital marketing and sales specialist who is highly proficient in planning, implementing, managing the entire business-to-business sales and marketing process for selling the company's advertising products and services. Having rich expertise and in-depth domain knowledge in the field of both sales and digital marketing, he ensures that he has a confident and winning attitude even during challenging business interactions.