The "Reaction feature" of WhatsApp, an Instant Messaging app, is all set to roll out today. Two weeks before, the same update was announced by Meta CEO Mark Zuckerberg, and as a new feature, it came out on his official Facebook account. 
Zuckerberg describes on Facebook –  "Reactions on WhatsApp start rolling out today. We're including [hands joined emoji] to help spread thanks and appreciation. More expressions are coming soon."
Finally, WhatsApp is rolling out this feature, already incorporated in Instagram, Whatsapp's sister company. The feature allows showing a quick reaction to messages with emojis. People have been waiting for this feature of WhatsApp for quite some time now. It is among a list of other new features announced by WhatsApp. 
WhatsApp announced last month a host of new features for the users, which are planned out, such as changes in "Voice Call" and "Community." The Voice Call feature is already implemented in the Facebook app, but the Community feature is still in the development phase.
In the Voice Call feature, WhatsApp has increased the number of participants for a single voice call.'Now, 32 people are allowed in the same voice call. Earlier it was only up to 8 people for a voice call. 
The user has taken the pain to type an emoji to react to a message. This WhatsApp "Reaction" feature changes everything because it makes the user's life easier by sending emojis to single messages. All this has changed, since the same work gets done instantly, simply by tapping and holding the message you want to exhibit your reaction to. 
How does the WhatsApp "Reaction" feature Work?
Step # 1: Open WhatsApp and then open the Chat, where you like to use reaction for any message.
Step # 2: Next, just press and hold the message you receive, one you want to react to.
Step # 3: A popup appears with six emojis, which can be used to show reactions to a specific message.  
Step # 4: Send the emoji reaction, choosing any emojis in the pop-up menu. 
For more news and updates on the social media ecosystem, subscribe to our YouTube channel.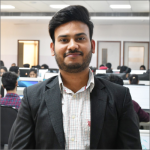 Senior Project Delivery Manager
A passionate and enthusiastic senior digital marketing and sales specialist who is highly proficient in planning, implementing, managing the entire business-to-business sales and marketing process for selling the company's advertising products and services. Having rich expertise and in-depth domain knowledge in the field of both sales and digital marketing, he ensures that he has a confident and winning attitude even during challenging business interactions.