YouTube is testing a number of new tools within YouTube Studio, with the goal of providing greater capacity to manage channel activity and additional choices to assist creators in securing branded content deals and monetizing their efforts. The YouTube team announced the modifications via the Creator Insider channel.
The first update of YouTube is regarding Channel Guidelines Expansion. The feature that allows creators to create up to three-channel criteria for comments, under their videos is being expanded to include more creators. All viewers will be required to read and agree to these guidelines before making a comment.
The feature does not force comments to be hidden or erased, but rather allows authors to keep the conversations going in the direction they choose. It is activated on the YouTube Studio's 'Community' tab under Settings.
Because the feature is in the experimental phase, it may only be available for a limited time, and the channel guidelines must also agree to YouTube Community Guidelines.

The second update is related to Member Recognition Self. In this, the members of a channel will now be shown on a separate shelf from non-members in order to increase the visibility of membership channel offerings.
Dislike count is the third update that one must keep an eye on. Last week, YouTube announced that the platform's dislike count will be private across all videos, but viewers will still be able to use the dislike button.
The shift comes after YouTube conducted an experiment to better analyze interactions between artists and viewers, as well as how the platform can combat abuse and dislikes.
As a result of the experiment, YouTube discovered that making dislike counts invisible meant viewers were less inclined to target a video's dislike button in order to increase the count, and evidence indicated a decrease in dislike attacking behavior.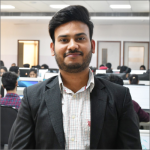 Senior Project Delivery Manager
A passionate and enthusiastic senior digital marketing and sales specialist who is highly proficient in planning, implementing, managing the entire business-to-business sales and marketing process for selling the company's advertising products and services. Having rich expertise and in-depth domain knowledge in the field of both sales and digital marketing, he ensures that he has a confident and winning attitude even during challenging business interactions.