YouTube is doing some updates by making some changes in the appearance of creator videos and channel pages to improve the viewer's experience. It will do several experiments in its channel page layout by making some alterations in the visual elements in the upcoming days.
It is focusing on providing creator information while enhancing the usability of the mobile experience. These are not permanent changes. Instead, they are part of a test that will be visible to users selectively.
Talking about video description, Youtube has always been adding new sections to it. Now the platform is modifying its appearance by placing video descriptions at the top of the panel. And at the bottom of the panel, it will showcase the "Read more" button. By clicking on it, the display text and additional sections would be visible.
YouTube believes that It's easier than we think for someone to steal our password. So it has announced a security update for YouTube Partner Program (YPP) Creators to add an extra layer of security. From 1st November, all YPP creators will be eligible to enable two-step verification to access Studio after setting up two-step verification on their Google account. So that each time YPP Creators have to sign in to YouTube Studio, they will need to enter their password with a verification code sent to them. It is an attempt to protect the YPP Creator's account.
In a nutshell, Youtube is trying to improve the user's experience by changing the outlooks of some of its features like the Channel page and Video description. So maybe these changes will provide a better user experience. And by setting up the two-step verification for YouTube Partner Program (YPP) creator's google account, Youtube has made it easy for creators to protect their accounts from hackers. So even if hackers get their hands on the password, they won't be able to sign in to the account.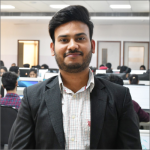 Senior Project Delivery Manager
A passionate and enthusiastic senior digital marketing and sales specialist who is highly proficient in planning, implementing, managing the entire business-to-business sales and marketing process for selling the company's advertising products and services. Having rich expertise and in-depth domain knowledge in the field of both sales and digital marketing, he ensures that he has a confident and winning attitude even during challenging business interactions.