YouTube has presented its new shorts fund, which means youtube will pay the YouTuber shorts creator up to $10,000 monthly as per the engagement and views. The idea here is to motivate creators to post shorts consistently and provide creators with an opportunity to make money.
YouTube explained that they will reach out to thousands of potential creators to see whether they're eligible for a reward from the Fund – creators can earn anything from $100 to $10,000 depending on the number of people that watch and engage with their Shorts.
YouTube further added that the Shorts Fund is the first step in the journey to build a monetization model for Shorts on YouTube. YouTube also said that the process is not limited to just creators in YPP (Youtube partner program); any creator meeting the eligibility criteria can participate."
YouTube has announced that creators will get paid every month from the $100 million Shorts fund, and their first payout will be in August. The idea of monetization of youtube was revealed in May this year. In May, YouTube said that Shorts is a new way to create and watch on YouTube, They've been taking a fresh look at what it means to monetize and reward creators for their content. They're introducing the YouTube Shorts Fund, a $100M fund dispense in 2021-2022. Everyone is allowed to participate in the fund simply by creating unique Shorts that delight the YouTube community.
Although from corner of the world anyone can see or create the youtube shorts video, the paid fund is only eligible for a few countries. These countries include Brazil, India, South Africa, Indonesia, Japan, Mexico, Nigeria, Russia, United Kingdom, and the United States) youtube shorts will provide bonus earning. Soon youtube will extend the list of these countries where creators will get an opportunity to make from the Youtube Shorts Fund.
Shorts Creators will get paid according to their productivity. They have to make their original content and comply with the youtube content policies, monetization, and copy-right guidelines. Creators between 13-18 would need their parents while connecting AdSense terms with their channel. Anyway, Youtube has not revealed the date till now from when Shorts creators will get payment. That's still up in the air. As per youtube, the fund will end in 2022.
As we all know, TikTok is the most downloaded app in the world. It means people have a great interest in watching short videos. So it will be an excellent opportunity for the creators to earn if they will play the game right. Also, As per Youtube, Shorts already have almost 15 billion daily views. So If some of the well-known TikTok stars will begin posting shorts on youtube, it will change the game and boost youtube's growth and popularity Tiktok. And Also, If youtube propels its creators to remain here only.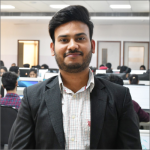 Senior Project Delivery Manager
A passionate and enthusiastic senior digital marketing and sales specialist who is highly proficient in planning, implementing, managing the entire business-to-business sales and marketing process for selling the company's advertising products and services. Having rich expertise and in-depth domain knowledge in the field of both sales and digital marketing, he ensures that he has a confident and winning attitude even during challenging business interactions.