Instagram has added a new feature that allows users to respond to comments on Instagram with reels. Users will be allowed to add a sticker to a newly posted reel, but only with a sticker for regular posts and change the sticker's color. It is similar to TikTok's, allowing users to respond with sticker comments.
Users must first post a reel on their Instagram account before responding with one. If someone comments on their reel, they can respond by creating a new reel. Users will be required to click Reply on a comment, after which a pop-up will appear asking them to Reply with a Reel.
Users can then create a video response by tapping the blue reels button. The video response will be pinned to the comment like any other reply, and other users will be able to see it as well.
In India, Instagram recently added the ability to add music to user feeds. Previously, users could only add music to stories or Reels. However, the Meta-owned social media app now allows users to add music to their feed.
Users can add music to their posts by clicking on the Add Music option when they post a picture. Users can also use the Search field to look for specific songs or browse for music in the app's Trending or For You sections. After searching for it, users can select a song and add it to their posts. They can also change the clip's duration and choose how much time to include in the post.
For more information from the social media ecosystem, head to our YouTube channel, and don't forget to subscribe to us.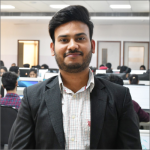 Senior Project Delivery Manager
A passionate and enthusiastic senior digital marketing and sales specialist who is highly proficient in planning, implementing, managing the entire business-to-business sales and marketing process for selling the company's advertising products and services. Having rich expertise and in-depth domain knowledge in the field of both sales and digital marketing, he ensures that he has a confident and winning attitude even during challenging business interactions.