Instagram announced earlier this year that it would look at the idea of creator subscriptions and was later seen working on a feature that would offer exclusive Stories to subscribers only. Now, it appears that the corporation is getting ready to test creator subscriptions on a larger scale.
According to Instagram's iOS App Store listings, the company is getting set to launch a new subscription service that will allow artists and influencers to make money. This comes after Instagram CEO Adam Mossier stated earlier this year that the business was looking into subscriptions.
The Instagram App Store listing now features a new "Instagram Subscriptions" category under the "In-App Purchases" section. The cost of an Instagram Subscription is Rs 89 per month. However, keep in mind that this may not be the final pricing when the feature launches. According to the reports, the cost can go to Rs. 449 as well.
Users may buy Instagram Badges to present creators during live sessions, and the new subscription option is available alongside them. When you DM (direct message) the creator or comment on their posts, a special member badge will appear next to your username. This symbol is supposed to prioritize interactions with the creator. It's worth noting that artists will be able to track their estimated profits, current members, and memberships that have lapsed.
The social media giant has yet to make an official announcement about the new function.
Prior to Instagram, Twitter launched Super Follows, a subscription service. The subscription allows creators to make more money from their tweets. Users pay creators for premium tweets that are exclusively viewable to subscribers on Twitter.
For more such information from the digital landscape, head to our YouTube channel.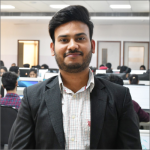 Senior Project Delivery Manager
A passionate and enthusiastic senior digital marketing and sales specialist who is highly proficient in planning, implementing, managing the entire business-to-business sales and marketing process for selling the company's advertising products and services. Having rich expertise and in-depth domain knowledge in the field of both sales and digital marketing, he ensures that he has a confident and winning attitude even during challenging business interactions.