Google hosted its annual event for 2022 last week, known as Google Marketing Live. The marketing community around the globe attended the conference. 
Every year, Google Marketing Live event comes up with exciting announcements, 
latest product innovations and strategies that marketers should adopt to achieve better results. 
This year's keynote focused on video ads improvements, automation enhancement, and a glimpse of forward-looking technologies.
Some Key Google Marketing Live 2022 Updates
Performance Max Updates
We are about to see increased transparency around Performance Max campaigns. The Performance Max campaign uses a single campaign to advertise – across all of Google's properties. Here are some of the updates:
Optimize Store Traffic and Sales
It will be possible to optimize store traffic and store sales if you run Performance Max for store goals. 
Burst Campaigns
This is meant for Performance Max-related Store Goals Campaigns. You get the best reach within a shorter period of two weeks since it is designed in such a way. It will also help drive calls, visits, and direction requests during seasonal spikes in holidays aligned with your in-store goals. 
Experiment Tools
This is in the beta stage for Performance Max campaigns. It helps you measure gradual performance improvements when Performance Max campaigns complement existing campaign types.
Explanations
You require no Cross-referencing of data across various reporting tools. This feature helps you find reasons for performance changes inside the Google Ads interface. 
 Recommendations on Google Ads & Optimization Score
This feature is available for Performance Max campaigns. Google will suggest Optimizations for budgets, targeting, and based on external factors and campaign-related goals and settings. 
Updates on Search Ads 360 
This is an enterprise-level platform of Google for managing large-scale search campaigns – across various search engines. So the users can create, view, manage, and report on Performance Max campaigns similar to Google Ads.
Insights Page New Data
Google announced three new insights to its Google Ads Insights Page.  The insights are Attribution Insights, Budget Insights, and first-party audience insights. 
Attribution Insights to check how your ads are performing together on Google Surfaces.
Budget Insights to discover new ways to optimize your budget
Audience Insights to see how your customer segments drive campaign effectiveness.
Google's Shopping Updates
We will throw light on shopping updates related to eCommerce business which are as follows:
Checkout on Merchant
The shoppers will be able to checkout directly from a listing, bringing them to the checkout page that appears on the advertiser's site.
Immersive Shopping Experience
Organic results and Shopping that use rich images and descriptions will be blended into the SERP. The users can view more product details as they swipe up on an ad.
3D AR
Users will view the 3D models of products in the search results.
Product Feeds Available on YouTube Shorts and Search
You can convert your video action campaigns into actual digital storefronts since Google will help product feeds available on YouTube Shorts and Search. So, the browsing and shopping experience becomes more blended. 
Recommendations on Product Improvement 
A tab within Google Ads will allow retailers to optimize their campaigns and their individual products.
Reporting Updates 
The updates are as follows:
Search & Conversion Lift Tests
The search lifts tests will segregate the audience into two segments, those who have not seen vs. those who have visited your YouTube Ads. This enables you to view the increase in organic search-driven by YouTube campaigns. 
Conversion Lift Tests
Google segregates users into two groups for a Video Action or Discovery campaign. The groups are users who will view the ad vs. users who would have viewed the ad but instead showed up, say in a competitor's ads. Then the conversions are viewed at your site to find an increase in those who have viewed the ads. 
Simplified Tagging
There is only one Google tag instead of the Global Site Tag for all Google Ads and Google Analytics accounts. Here there is central management of tags without any code. 
New Reporting 
This feature ensures the availability of new data like on-device conversion measurement and a lead funnel report for judging the performance of qualified and converted leads. 
GA4 New Home Experience
Google Analytics 4 will have a new Home dashboard that automatically offers insights and predictions based on the whereabouts of your audience in their journey.
YouTube Shorts Updates 
The YouTube shorts have, on average, 30 billion views daily. Ads are now available in YouTube Shorts. Video action campaigns and App campaigns will be released soon on YouTube Shorts globally.
Full-screen portrait mode ads and scrollable and video ads based on product feeds will be available.
Google audiences for connected TV Campaigns
Connected TV campaigns will soon have the option of Google audiences which includes in-market, affinity, and demographic audiences. These connected TV ads will have OTT advertising forms and are popular with a rise in the number of cable cutters. 
Updates on Asset creation 
Auto-generated responsive search ad assets: Google will create RSA assets based on the content from existing ads and landing pages soon.
A brand new asset library: With the new asset library, you can make an ad with only five images, logo, and text assets, and once the video is created, you can publish it on YouTube directly in the asset library. 
For such informative content from the world of social media, follow us on LinkedIn, Facebook, and Instagram, and don't forget to subscribe to our YouTube channel to never miss any updates on the latest news.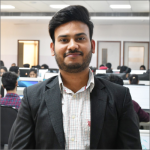 Senior Project Delivery Manager
A passionate and enthusiastic senior digital marketing and sales specialist who is highly proficient in planning, implementing, managing the entire business-to-business sales and marketing process for selling the company's advertising products and services. Having rich expertise and in-depth domain knowledge in the field of both sales and digital marketing, he ensures that he has a confident and winning attitude even during challenging business interactions.