Uber, the ride-hailing firm based in the United States, is launching a new service in India that allows customers to book an Uber ride through an official Uber WhatsApp Chatbot, a first for the company, and an expansion of WhatsApp's capabilities in the country.
According to Uber, this new feature will allow consumers to book an Uber ride through an official Uber WhatsApp chatbot. The Uber app will no longer be required for riders to download or use. Everything from user registration to scheduling a ride and receiving a travel receipt will be handled through the WhatsApp chat interface.
The integration, a first for Uber, is being rolled out in Lucknow initially. It will next roll it out to users in New Delhi before expanding to the rest of India next year.
WhatsApp, owned by Meta, has moreover 500 million users in India, the country with the highest single user base.
Now, let's have a look at how the entire procedure works.
WhatsApp users can book an Uber ride in three ways:

-> By messaging Uber's business account number,
-> Scanning a QR code, or
-> By immediately clicking a link to initiate an Uber WhatsApp chat.
The user will then be asked for pickup and drop-off places. Users will receive upfront fare information as well as the driver's estimated arrival time.
Riders receive the same safety features and insurance coverage as those who book rides directly through the Uber app. They will be informed of the driver's name and license plate upon booking; they will be able to follow the driver's whereabouts en route to the pickup site, and they will be able to speak to the driver anonymously via a masked number.
The WhatsApp chat flow will guide the rider about safety guidelines, such as how to contact Uber in the event of an emergency (type help on-trip). And, if the user chooses "emergency" while on the trip, they will receive an incoming call from Uber's customer care staff. Uber riders will also have access to the safety line numbers, which they may use to contact the Uber team if necessary, until 30 minutes after the trip finishes.
Drivers on Uber's platform, on the other hand, will not notice any difference in their experience with rides booked over WhatsApp.
This option to book transport via WhatsApp is currently only available in English, but it will be expanded to other Indian languages in the near future. Furthermore, the service is available to both new and existing Uber users who registered with simply a phone number.
For more such information from the social media ecosystem, tune into Propel Guru's YouTube channel.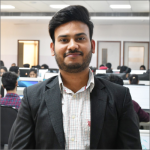 Senior Project Delivery Manager
A passionate and enthusiastic senior digital marketing and sales specialist who is highly proficient in planning, implementing, managing the entire business-to-business sales and marketing process for selling the company's advertising products and services. Having rich expertise and in-depth domain knowledge in the field of both sales and digital marketing, he ensures that he has a confident and winning attitude even during challenging business interactions.