WhatsApp, the widespread instant messaging platform, announced the drop of new features in 2022. With the recent addition of increasing the file sharing limit to 2GB & a new community, WhatsApp is leading with the motive of continuous development. The new features are expected to improve the user experience with unique ways to connect and communicate with each other.
Let's have a look what are the expected features to be launched in 2022:
Immediate responses to status updates
With this feature, WhatsApp users can respond with emojis like Face with Tears of Joy, Smiling Face With Heart-Eyes, Folded Hands, Clapping Hands, Party Popper, etc., on status updates. 
Increased limit of participants in voice calls
Only eight people can currently be present in a group voice call, but now WhatsApp is increasing the limit to up to 32 people at one time. A notable point here is that the limit for video calls will be the same.
New Community feature
Now, WhatsApp users can create various individual groups, bring them jointly under a single community, and manage it. The new feature will also come up with tools for admins, including the command to send the announcement messages to the whole groups or preferred groups.
Larger groups
Competing Telegram, WhatsApp is extending the group limit to 512 members from the current permitted 256 members. 
Addition of New Emoji reaction
WhatsApp is adding more reaction emojis by the time. Currently, only six emojis are available to react.
Admins can delete unwanted messages
After rolling out this feature, administrators of the groups will have the accessibility to remove inappropriate messages from everyone's chats at any time. Once deleted, they will no longer be accessible to any group member. 
Polls
It is not confirmed when this feature will roll out on the stable version, but it seems like users can create polls on WhatsApp & add up to twelve options with that.
Profile picture in notifications
With the new addition, WhatsApp is working to show the sender's profile picture in the notifications whenever there is a new message. It will help to identify who has sent the message.
The new Avatar
Now, the users can make their cartoon characters while doing Video chats. It will be a new & exciting feature for users.
Sync with Multiple Device
WhatsApp is set to drop a new "WhatsApp Companion Mode" feature to sync multiple devices. In the current version, users can only link the existing WhatsApp account to a desktop. With this, Users can connect their WhatsApp Account with a secondary mobile device, including tablets as well.
Extended time limit to delete sent messages
WhatsApp plans to increase the time limit to 2 days and 12 hours to delete sent messages. It is entirely unpredictable when the new feature will serve the users, but it will be worth it.
There may be more features rolling out with the year-end. The queue is long. Let's see when the new features will be officially live.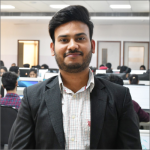 Senior Project Delivery Manager
A passionate and enthusiastic senior digital marketing and sales specialist who is highly proficient in planning, implementing, managing the entire business-to-business sales and marketing process for selling the company's advertising products and services. Having rich expertise and in-depth domain knowledge in the field of both sales and digital marketing, he ensures that he has a confident and winning attitude even during challenging business interactions.