WhatsApp is the most popular social media platform and has more than 1.6 billion active users per month, comparable to other social platforms like Facebook and Instagram. Furthermore, it is one of the few apps that has been downloaded more than five billion times.
Facebook-owned WhatsApp enables users to block or report anyone on their WhatsApp sending inappropriate content or spam. The users can block a person and stop receiving messages, calls, and status updates from that contact if they don't like someone or someone is unknown.
There are some people who would like to find out who blocked them on WhatsApp. Although the messaging app doesn't alert you if someone blocked you on WhatsApp, here are some indicators to help you know about the same.
The company has shared several indicators to help users determine if their contact has blocked them.
Watch out for is "Last Seen" – Once someone has blocked you, you will not be able to see a contact's last seen or 'online' in the chat window.
Check the profile picture – If someone has blocked you, you won't see the particular contact's profile picture updates.
Check out the tick mark – If someone has blocked you and you sent a message to them, then it will display a single tick that denotes that the message has been sent from your end. If the single doesn't change its double tick mark that indicates that the message has been delivered to the contact, it clearly defines that that person has blocked you.
If you cannot verify these signs, you can try contacting this contact on WhatsApp via video or voice call. If you can't make a call, it means the person has blocked you. "Any calls you attempt to place will not go through," WhatsApp said.
If you encounter all the indicators mentioned above for any of your contact on WhatsApp, this could define that that person has blocked you.
To protect privacy, WhatsApp doesn't send you a notification if someone blocks you. "We have made this intentionally ambiguous to protect your privacy when you block someone. Thus, we cannot tell you if you are being blocked by someone else," the company said.
In addition, the users should remember that their attempts to check if someone has blocked them would not result in harassment or cyber harassment.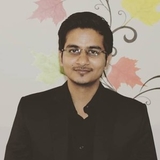 Head of Business Development & Consultant
A successful sales leader, Indrajeet has effortlessly led teams to successful deliveries by redefining business promotion, lead generation, email marketing, and a series of out-of-the-box sales and marketing techniques. Ability to work independently and with cross-functional teams and facilitating truly agile processes while seeking iterative improvement.
Hire Canada's best Lead Generation & Email Marketing Company. Choose certified Sales Specialists from Propel Guru now.